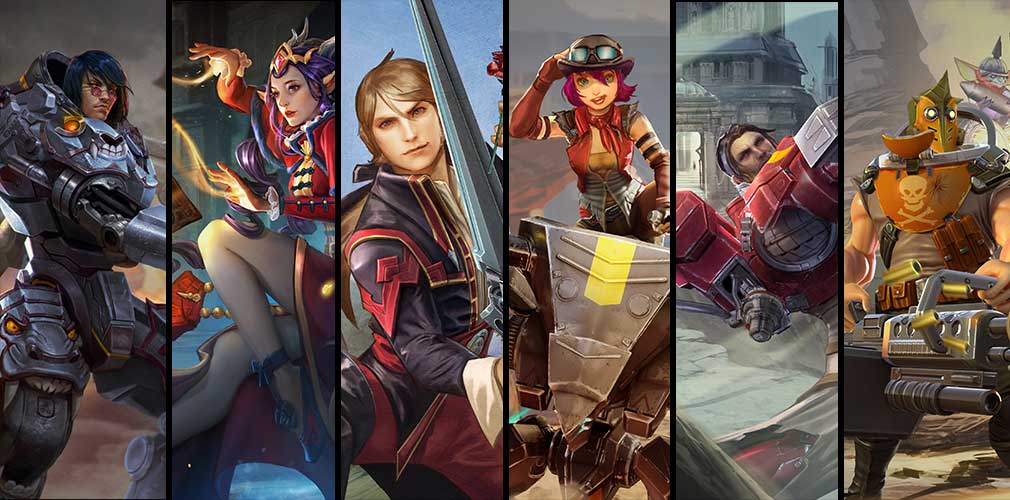 Each week six heroes are temporarily unlocked for play in Casual and Private games. If you enjoy playing these heroes and want to unlock them permanently, each hero in this week's rotation will be available at a 10% ICE discount. Try any of the heroes listed below before unlocking them with Glory or ICE!
---
BARON (CARRY)
Baron rains destruction on his opponents. When building crystal items, he becomes mobile artillery, laying siege to enemy teams. His weapon path enables aggressive in-your-face tactics. No matter how he builds, he brings incredible range and powerful burst damage to any team.
---
LYRA (CAPTAIN)
Drawing upon her training as a Gythian battlemage, Lyra uses healing and protective magic to turn enemy positions into powerful zones for her allies. Her portals also allow her team to bypass these positions entirely, avoiding defenses and terrain. Utility and defense items improve her role as a healer, while crystal items provide a devastating but fragile mage path.
---
BLACKFEATHER (CARRY)
Blackfeather is a striking duelist who pierces the hearts of his opponents. When building weapon items, he becomes a powerful assassin. Building crystal and utility items instead unlocks powerful effects for himself and his team. He performs well in the lane where he can focus on accumulating gold early in the match.
---
JOULE (JUNGLER)
Joule is a hardened front-line fighter with built-in defensive plating. All of Joule's abilities require proper aim to hit the intended target, but they have a devastating effect if you can aim properly. Pick Joule if you have an uncanny ability to predict enemy player movements. Joule can start in the jungle or lane.
---
ARDAN (CAPTAIN)
Ardan is a damage-soaking protector who dramatically changes the landscape of teamfights. Able to rescue friends from certain death and turn lost battles around with his powerful terrain-changing ultimate, Ardan brings immense utility to the team. Start Ardan in either the lane or jungle, depending on which ally you want to protect most.
---
SAW (CARRY)
SAW has arguably the highest damage potential in the game … but at the huge expense of mobility. Excellent at sieging important locations, SAW zones out entire regions from the enemy team with Suppressing Fire. Try starting him in lane, earn as much gold as possible, then make your presence felt wherever needed.
---
ABOUT THE FREE HERO ROTATION
The free hero rotation unlocks six heroes each week to play as long and as much as you want in the Casual queue. It's an opportunity to test drive heroes before using ICE or Glory to unlock them.
The free rotation changes every Tuesday and heroes in the rotation usually won't return for a few weeks or months afterward, so unlocking heroes is always worthwhile. The free rotation does not apply to Ranked play to ensure players are already very familiar with the heroes they play in that try-hard environment with skill tiers at stake.
---
Jump into the Fold now with this group of great heroes!