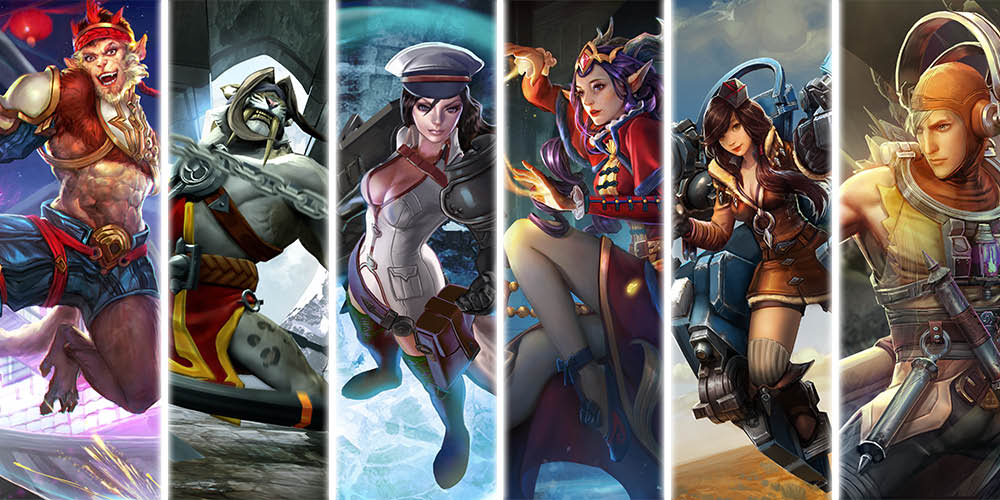 Each week six heroes are temporarily unlocked for play in Casual and Private games. Try this set of heroes today!
---
OZO (JUNGLER)
A carnival monkey never lets silly things like danger and fear keep him from a great time. Ozo runs straight into chaotic fights, bounces off heads and delivers big time area-of-effect damage with his razor-sharp ring. Build some defense items to keep Ozo in combat, and look for combinations of nearby enemies to maximize Ozo's damage.
---
GLAIVE (JUNGLER)
Glaive has one of the most feared abilities in the game: a jet-powered Afterburn strike that will slice through you and blast you back into a tactically fatal position. In teamfights, Glaive's area-of-effect cleave and Bloodsong lifesteal makes him incredibly hard to bring down. Try Glaive first as a jungler, but roam into the lane to rocket enemies toward your allies and turrets.
---
CATHERINE (CAPTAIN)
Catherine brings the most reliable stun and disruption skills to teamfights and ganks. Hard to kill and great at chasing, she can secure kills and turn around fights that would otherwise be lost. Catherine can soak up damage and strike fear on sight. She is best roaming between jungle and lane.
---
LYRA (CAPTAIN)
Drawing upon her training as a Gythian battlemage, Lyra uses healing and protective magic to turn enemy positions into powerful zones for her allies. Her portals also allow her team to bypass these positions entirely, avoiding defenses and terrain. Utility and defense items improve her role as a healer, while crystal items provide a devastating but fragile mage path.
---
SKYE (CARRY)
Skye is a swift sniper able to dance at the edge of fights or dive deep into the enemy backline to kill key targets. Skye's unique strafing attacks change the complexion of fights, and her ability to chase down and catch opponents is unparalleled. Start Skye in the lane, mow down minions and build weapon or crystal depending on your playstyle.
---
VOX (CARRY)
Vox is a mobile sniper with a high-energy playstyle, able to quickly and frequently dash around the battlefield. Vox deals significant damage either to a single target or to groups of enemies depending on his build. This flexibility allows Vox to react according to the needs of his team.
---
ABOUT THE FREE HERO ROTATION
The free hero rotation unlocks six heroes each week to play as long and as much as you want in the Casual queue. It's an opportunity to test drive heroes before using ICE or Glory to unlock them.
The free rotation changes every Tuesday and heroes in the rotation usually won't return for a few weeks or months afterward, so unlocking heroes is always worthwhile. The free rotation does not apply to Ranked play to ensure players are already very familiar with the heroes they play in that try-hard environment with skill tiers at stake.
---
Jump into the Fold now with this group of great heroes!