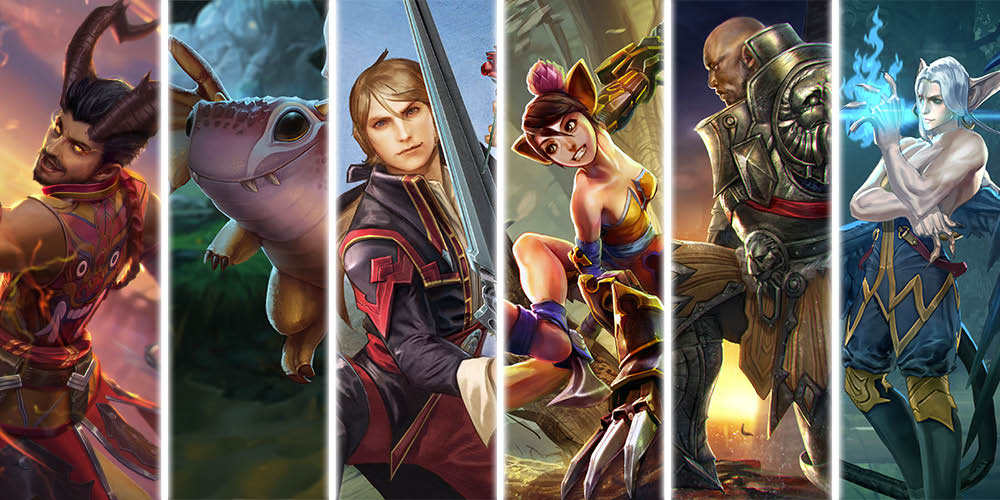 Each week six heroes are temporarily unlocked for play in Casual and Private games. Try this set of heroes today!
---
REZA (ASSASSIN)
Reza is a fiery assassin who melts enemy heroes by stringing together a series of devastating abilities. His Firestarter perk adds even more damage to basic attacks while Troublemaker allows him to finish off fleeing foes or escape near-death situations. 
---
SKAARF (CARRY)
Skaarf is a cute little flamethrower who thrives at dealing long-range and area-of-effect damage, especially during teamfights. However, his abilities are aimed, meaning you'll need quick reflexes and good prediction to land those fireballs. Skaarf is often in lane but can also be effectively played out of the jungle. Go burn your way to glory!
---
BLACKFEATHER (CARRY)
Blackfeather is a striking duelist who pierces the hearts of his opponents. When building weapon items, he becomes a powerful assassin. Building crystal and utility items instead unlocks powerful effects for himself and his team. He performs well in the lane where he can focus on accumulating gold early in the match.
---
KOSHKA (JUNGLER)
Koshka is an in-your-face assassin adept at getting the kill and then getting out. She should focus on assassinating weak targets and locking down the most lethal enemy. She is extremely fast at clearing jungle camps, making her an ideal jungler. Confident players will even invade the enemy-side jungle for fun and profit.
---
LANCE (CAPTAIN)
Lance depends on both his courage and his wits to protect his allies. With his unique polearm-and-shield combat style, he breaks enemy lines and creates opportunities for his friends. Lance can build crystal or utility items to excel in his role as a protector, or he can build weapon items to deal more damage during battle.
---
ADAGIO (CAPTAIN)
The master manipulator of large-scale battles, Adagio brings incredible teamfight presence with huge area-of-effect damage and team-saving abilities. He almost seems too good: He can heal. He can amplify damage. He can stun and nuke the entire enemy team … but none of these can be achieved easily without team-wide coordination. Adagio is extremely flexible and can start as laner, jungler or roamer.
---
ABOUT THE FREE HERO ROTATION
The free hero rotation unlocks six heroes each week to play as long and as much as you want in the Casual queue. It's an opportunity to test drive heroes before using ICE or Glory to unlock them.
The free rotation changes every Tuesday and heroes in the rotation usually won't return for a few weeks or months afterward, so unlocking heroes is always worthwhile. The free rotation does not apply to Ranked play to ensure players are already very familiar with the heroes they play in that try-hard environment with skill tiers at stake.
---
Jump into the Fold now with this group of great heroes!